City Newsletter July - September 2020
Mayor's Column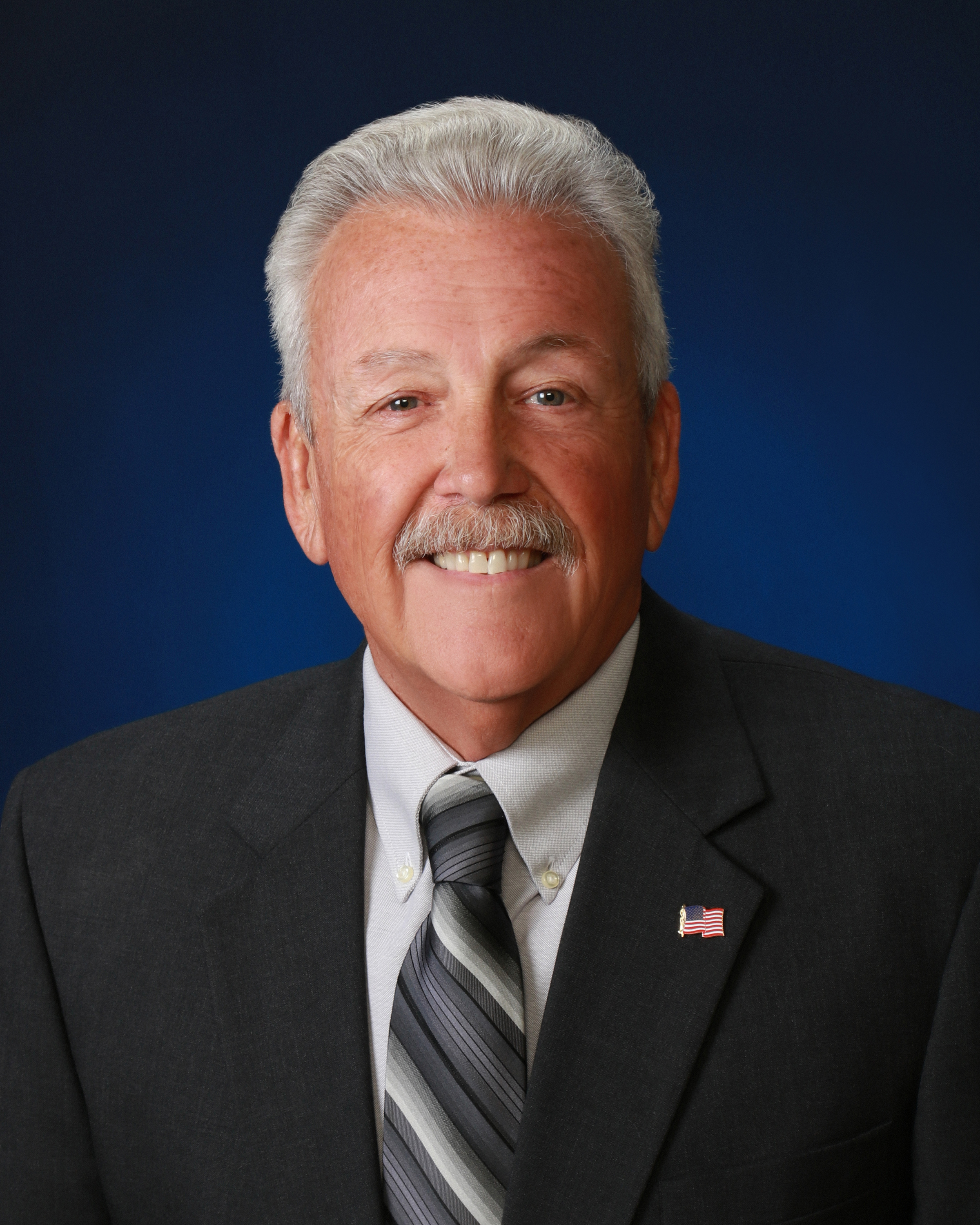 It's Summer!! 2020 has truly been a challenging year so far. The COVID -19 has caused so many changes in our daily lives. Having to stay at home and watch our local businesses close has been so difficult for most of us. Having to search for cleaning supplies, paper products and wearing a face mask is all so abnormal.
Overall our community has been extremely fortunate in the low number of cases that have been found in our Zip Code. I want to thank all of you that have followed the Centers for Disease Control (CDC) and Prevention guidelines. Please stay vigilant by protecting yourself and doing your part to keep the virus from spreading.
The resourcefulness of many of our small businesses to adjust and respond in this difficult time by providing take-out or delivery services, is remarkable. Staying true to our community, we have had residents and businesses provide food and personal protection equipment to our front line personnel, City employees and many others (see donation information on page 5). Thank you!
Fortunately, several new construction projects are still on schedule. One Caring Family Assisted Living Facility, The Enclave at 3230 Apartment Complex and a bowling alley at Sunshine Park Mall are all moving forward.
A hard decision was made in our Parks and Recreation Department to cancel our spring baseball and summer camp programs. This decision was made in an effort to keep the children, staff and residents safe. We all look forward to the kick-off of our fall sports programs and City special events being scheduled in our beautiful parks.
A big South Daytona welcome to Mr. Gregory L. Schwartz as the new principal of South Daytona Elementary (SDE), Home of the Mighty Dragons. Mr. Schwartz comes to SDE via Pathways Elementary.
Don't forget that we are now in Hurricane Season, with named storms already in the news. Review your plans, check your supplies and stay alert.
Please take a moment to follow our City of South Daytona Facebook page, we are using this forum as part of our social media interaction to keep a transparent flow of information. Our City webpage is updated with timely news, events and there are also links to COVID-19 resources for residents and businesses.
As I write this, our country is full of unrest. I pray that by the time you read this, a safe, healthy calm will be prevalent.
Council Actions
In April, the Community Trust, Inc. Board approved a donation to the Volusia County School Board for providing food for students that normally receive 1 to 2 meals per day at school but due to the COVID-19 stay at home order do not have access to proper food and nutrition. The City Council took the following actions, approval of Ordinance 2020-01 Sign Regulations amendment, Ordinance 2020-02 Special Events Regulations amendment, and Ordinance 2020-07 Fee Schedule Amendment.
In May, the following actions were taken: on the consent agenda the following items were approved; Resolution 2020-12 approval of adoption of Annual Progress Report for the City of South Daytona Floodplain Management Plan as required by the Community Rating System program that provides flood insurance discounts to residents living in a Special Flood Hazard Area, and Resolution 2020-13 Renewal of the State Highway Lighting Maintenance and Compensation Agreement with FDOT. On the regular agenda, the following items were approved; Resolution 2020-03 combining Parks and Recreation Board and the ADA Advisory Board, Resolution 2020-08 designating community-wide special event dates, and Resolution 2020-09 setting forth appropriation for current expenses and capital outlays.
In June, the following actions were taken: on the consent agenda the following items were approved; renewal of the school resource officer agreement with the Volusia County School Board, Justice Assistance Grant (JAG) disbursement, Ordinance 2020-03 second hearing to combine Parks and Recreation Board and the ADA Advisory Board. On the regular agenda; Resolution 2020-19 Maintenance and easement agreement with Coventry Forest, Resolution 2020-20 Special Exception for automotive parts and service at 2325 S. Ridgewood Avenue. Ordinance 2020-05 amending Stormwater Utility Fee to ensure only developed commercial properties charged fee. Ordinance 2020-11 remove certified mail requirement unless it is required by State law, Ordinance 2020-12 requiring licensed landscape architect, Ordinance 2020-13 requiring off-street parking for new construction be paved/hard-surface, and Ordinance 2020-14 requiring paved drive aisles for development.
Upcoming City Council meetings will be held on the following dates: July 28, August 11 and September 14 and 29.
City Elections Information
PUBLIC NOTICE
CITY OF SOUTH DAYTONA
GENERAL ELECTION - AUGUST 18, 2020
Candidates for Mayor
William "Bill" Hall
Nancy Long
Candidates for Councilmember Seat 4
Ralph G. Schoenherr
Eric Sander
Brandon L. Young (Seat 1)
By virtue of drawing no opposition, Councilmember Young automatically won re-election to the four-year term.
For those who are interested, Early Voting is scheduled for August 8 - 15 from 8:00 a.m. - 6:00 p.m. at the following sites:
Department of Elections Office, 1750 S. Woodland Boulevard, DeLand (Victoria Square)
Deltona City Commission Chambers, 2345 Providence Boulevard, Deltona
Volusia County Library Center at City Island, 105 E. Magnolia Avenue, Daytona Beach
Port Orange Regional Library, 1005 City Center Circle, Port Orange
Ormond Beach Regional Library, 30 S. Beach Street, Ormond Beach
New Smyrna Beach Regional Library, 1001 S. Dixie Freeway, New Smyrna Bch
The City of South Daytona Voting Precincts
For August 18, 2020 - Election Day
7:00 a.m. - 7:00 p.m.
701 - South Daytona Christian Church, 2121 Kenilworth Avenue
703 - Piggotte Community Center, 504 Big Tree Road
Moving Forward, Reopening
As the State of Florida moves forward reopening in stages, so does your City. While we have continued to work at full capacity during the stay at home order, we have done so in a way to protect employees and residents. City Hall doors reopened to the public on June 1. We continue to practice social distancing and ask that you do as well when you visit City facilities.
During the closure of City Hall to the public, the Community Development Department remained in full operation. Building permit applications and Business Tax Receipt applications continued to be accepted via e-mail, as well as a drop box located at the exterior east entry doors. While city hall is now open to public access, utilization of the drop box (now located in the atrium) and e-mail submittals are still encouraged, though staff will be available at the counter for assistance. We do ask that visitors to the Community Development Department respect the limit of two occupants at a time in the lobby and exercise social distancing to the best of their ability.
The Utility Billing Department now allows residents to pay their water bill and/or setup service in person in the office. As you enter Utility Billing, residents are encouraged to stand behind the table to conduct business. To ensure residents practice social distancing, lobby seating has been spaced out to meet the recommended 6 feet distance. Furthermore, residents are encouraged to use the bottles of hand sanitizer before and after their transaction. If residents choose not to enter City Hall, they may utilize our drive-thru on the north side of the building, email service@southdaytona.org or call Customer Service at (386) 322-3002.
Parks and Recreation Department Due to the low number of Coronavirus cases in South Daytona, the City's parks, playgrounds, and restrooms were able to remain open with additional cleaning by Public Works staff and deep cleaning by Executive Building Services who have been sanitizing all the playground equipment. We have also installed hand sanitizing stations at the playgrounds in Riverfront, Reed Canal, and James Street Park. The City did have to make some changes to its usual schedule to include cancelling events, classes, and soccer. Due to potential exposure of the COVID-19 virus, we decided to cancel summer camp, but we look forward to having everyone back for Spring Camp next year. It was not an easy decision to have to cancel so many of our programs, but it was the best decision in order to protect our community.
The Piggotte Center has reopened for pavilion rentals in the parks. We hope to fully reopen by the end of summer with adult and youth classes and building rentals. While it has been quieter in our parks, our team has been working hard on improvements. The restrooms, concession stand, and press box were all recently painted at James Street Park. The shade coverings have been replaced and the small playground is also being improved. Several other projects are also being planned for the parks such as new scoreboards and fencing that will be purchased with a grant from Daytona Beach Racing & Recreational Facilities District.
The Public Works Department continued their daily work in addition to COVID-19 related work such as cleaning public spaces, etc. Daily ongoing work includes such things as cleaning and maintaining lift stations. The Public Works Department maintains twenty-two sewer lift stations that work around the clock to move sewage to the treatment plant and away from our houses. Lift Station 5 on Violet Street is one of the last collection points prior to leaving our City. This means that it sees a lot of flow and therefore must keep the sewage moving by pumping. An extensive cleaning effort was performed at the end of May to improve odors and prepare the station for new, more efficient pumps which were purchased earlier this year. The cleaning was accomplished with sewer vacuum trucks that function similar to your household wet-dry vacuum, but with much greater air flow. Solids that accumulate in the system such as solidified cooking grease, "Flushable" wipes (which should not actually be flushed), and other debris sent down the drain can create a mat over time. This mat will clog pumps and can cause odors as it sits on the surface of the water. With all of this now removed, a mixer has been added to the station to aerate the system making it more aerobic (integrating oxygen) thus reducing odor, and to slow the buildup of more mat. We genuinely thank our neighbors in the vicinity of this station for putting up with us while we cleaned the station. We understand it is not a pleasant thing to deal with, but it is for the better of the system and our City. If you have any issues with your sewer system, any of the lift stations, or just have questions on how it all works, please give us a call at 386-322-3080 or email us at: SDPublicworks@southdaytona.org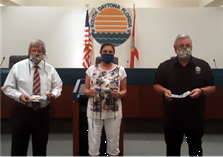 Many businesses and residents have stepped up to make a difference during the COVID-19 pandemic. We would like to thank those individuals who have generously donated items to businesses, residents and city employees recently. Resident Nancy Budd and her husband Ed Budd (retired military) made by hand, over 1,200 cloth masks. She donated masks to the City of South Daytona, Publix, Oak Tree Healthcare, Dollar Store, Sun Trust Bank, Italy Pizza, Carlton Shores Nursing and Rehabilitation Center, Port Orange Library, Eagles Club in Daytona Beach and residents in Coventry Forest.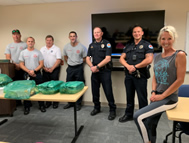 Cherise Graham Wintz, with Operation Changing Lives, generously provided a delicious Italian lunch to our front line personnel in Fire, Police and Public Works Departments in April. Ms. Laikha Aziz, Volusia Medical Supplies, 591 Beville Road, donated ten (30) KN95 face masks, a laser thermometer and rubber gloves for City Hall employees in May. Ms. Aziz is pictured below with Les Gillis, City Manager.







Ms. Angie Warga, New Life Martial Arts, donated 50 surgical masks, to our Fire Department in June. Other donations to our Public Safety departments included: hand sanitizers and plastic bottles from Copper Bottom Distillery, 60 masks from Blue Sky Swim Wear, energy drinks from Bang Energy, pizzas from Sam's Club, Sub Safes (sandwich containers) from Sub Safe, medical grade masks from Ring (doorbell), masks from Kitty's Bikini's and candy from I Love Sugar.
We appreciate the donations of personal protection equipment, food and other items to City personnel, local businesses and residents. Thank you for making a positive difference in the community during this challenging time.


Help us Stop Illegal Dumping
Illegal dumping is the deliberate disposal of waste materials onto public or private land. Illegal dumping causes:
Rising costs for continual clearing of illegally dumped waste to the City
Environmental damage including destruction of vegetation and leaching of hazardous materials into the soil and waterways
Decreasing property and community value
Hazards and risks to people and animals, particularly when waste includes sharp objects, asbestos and glass.
Your City, in partnership with Waste Pro, is on the watch for illegal dumping activity. The City provides services for solid waste and recycling. It is your responsibility to appropriately dispose of hard waste (large items) that cannot go in your regular waste collection.
You can help by contacting Public Works at 322-3080 for details regarding disposal of your waste and collection of your recycling. Being an informed community member is a positive step towards reducing illegal dumping.
Community Outreach Assistance Program
Residential Home Repair Assistance Grant A Program Funded by the South Daytona Community Trust, Inc.
This program is funded solely though private donations and revenue from special events such as the Annual Mayors Golf Tournament. The Community Outreach program provides home maintenance and repair assistance to residents in need that are unable to obtain help elsewhere. Funds can be used for exterior repairs including: roofing, plumbing repair, electrical repair, soffit and fascia repairs/replacement, window and door replacement and A/C and heating unit replacement. It is the hope of the Community Trust Board of Directors that this program allows our seniors to age in place and provide a hand-up to homeowners in need.
Program eligibility is based on residency and income. Applicants must be a homeowner living in their homesteaded property and must meet Federal Housing and Urban Development (HUD) Income Guidelines. The FY 2020 HUD Low-Income Limits by family size are as follows: 1 person-$36,350, 2 persons-$41,550, 3 persons -$41,550, 4 persons-$46,750, 5 persons-51,900, 6 persons-$56,100, 7 persons-$64,400. (Visit https://www.huduser.gov/portal/datasets/il.html to view the full HUD Low Income Limits table.)
To determine eligibility, applicants will be required to provide financial documentation, such as bank statements, income tax return, Social Security benefit statements, etc. To obtain an application, please contact: Patty Rippey, AICP, Redevelopment Director at 386-322-3016 or prippey@southdaytona.org .
Community Trust Scholarship and Volusia County School Donation
Programs Funded by the South Daytona Community Trust, Inc.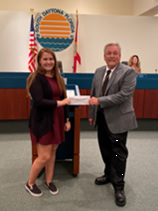 An academic scholarship program was created by the Board of Directors of the South Daytona Community Trust on March 10, 2020. The purpose of the scholarship is to recognize a high school student that is a resident and who has bettered their community through volunteerism while maintaining a 3.0 GPA. One scholarship is awarded annually for $1,500. The first scholarship was awarded this year to Skylar Larsen, a senior at Atlantic High School, pictured with Mayor Bill Hall congratulating her at the June 9 City Council meeting. She demonstrated her academic accomplishments and dedication to community volunteerism in her 500-word essay. Ms. Larsen is attending Jacksonville University where she will pursue a nursing degree.
The South Daytona Community Trust, Inc. Board also approved a donation of $1,000 to the Volusia County School Board in April to provide relief for students in need of daily food and nutrition that would normally be provided during a school day. Due to school closures in the wake of COVID-19, those essential breakfast and lunch meals could not be provided to children in need. This donation was utilized by the School Board to provide the same level of food service to those students.
Utility Billing - Water Meter and Billing Information
Have you every wondered how your water meter works or how City personnel reads your meter each month? Well, you are not the only one, so our Utility Billing Department has put together answers to the most commonly asked questions about water meters, including how they are read and how water consumption is billed.
HOW IS MY WATER METER READ?
The City has a dedicated team of technicians that walk through the City monthly, capturing readings from your water meter. An electronic reading wand is used to transmit data from your meter into our billing software. Your consumption is calculated by comparing your previous readings to your current readings.
HOW AM I BILLED?
Residents are billed monthly for consumption. You are billed per 1,000 gallons. The City truncates all meter readings to the thousand's digits. For example, let us show the consumption of a new water meter installed in July. Initial meter reading is 0 when installed. The meter's register is always compounding and can never get reset back to zero.
Example #1: In August, the meter's register reads 1,000. The City's billing software only reads the thousandths digit which in this case is 1. The property owner will be billed for 1,000 gallons of usage for the month. In September, the meter's register reads 4,000. The City's billing software only reads the thousandths digit which in this case is 4. The software will subtract 4,000 gallons minus the 1,000 gallons billed the month prior and issue a bill for the usage of 3,000 gallons for the month.
Example #2: In August, the meter's register reads 1,999. The City's billing software only reads the thousandths digit which in this case is 1. The property owner will be billed for 1,000 gallons of usage for the month. In September, the meter's register reads 4,000. The City's billing software only reads the thousandths digit which in this case is 4. The software will subtract 4,000 gallons minus the 1,000 gallons billed the month prior and issue a bill for the usage of 3,000 gallons for the month. Note in this example, the resident used about the same amount of water each month, around 2,000 gallons but received a bill of 1,000 gallons one month and a bill for 3,000 gallons the next month which still equates to the 4,000 gallons used over the two month period.
HOW CAN I CHECK FOR LEAKS?
Residents are encouraged to check their meter if they suspect abnormal usage or leaks. Your meter as outlined below, is equipped with a leak indicator. Residents can turn off all fixtures on their property and visit the meter. If the leak indicator is moving at any rate, its recommended to check each fixture to assess for leaks.
*Digital Meter- LCD screen will reveal a plus (+) symbol next to "gal". This symbol indicates water flowing through the meter.
*Analog Meter- The face of the meter will reveal a triangle or a red dial. Any movement of this symbol indicates water flowing through the meter.
Of course a resident can always ask for assistance in this task by contacting our Utility Billing Office.
STILL HAVE QUESTIONS?
Utility Billing has a well versed and committed team available to assist all residents with any questions they may have about their services, billings, and department policies. Please call the office at 386-322-3002 or email us at: service@southdaytona.org
Penny Saver
We have had many calls inquiring how to discontinue Pennysaver delivery. The deadline to stop or start delivery service of the Pennysaver is Monday at 10:00 am. The contact number for circulation is (386) 681-2788.
Business Portal
New Businesses
Atlantic Insurance Solutions LLC, 2090 S. Nova Rd #A124, Insurance office
Dean Stewart Photography, 955 Foster Way Unit 322 , Photography studio
Discount Direct South Daytona, 2250 S. Nova Rd #9 , New mattress sales
Elite Eagle Development , 927 Beville Rd #110, Development consultant
E.S. Auto Sales, 2090 S. Nova Rd Ste. 120, Used car sales, office only
Ideal Water LLC, 631 Beville Rd, Residential and commercial water treatment system sales
Lincare Inc., 955 Foster Way Unit 301, Retail sales, rental of DME, equipment by prescription
Patricia Ann Taylor DBS Performance 1 Realty, 1700 S. Ridgewood Ave, Realtor, property management
Sylvester's Air , 3127 S. Ridgewood Ave - HVAC contractor
Volusia Strategies Inc., 927 Beville Rd #113, Marketing consultant
Business License Tax Receipts
Business Tax Receipt renewals for the 2021 fiscal year will be sent out mid-summer via USPS and will be due by September 30, 2020. If you have any questions, please contact Lauren Rizzo, Planning Technician at Lrizzo@southdaytona.org or Community Development at 386-322-3020.
Message From Your Code Compliance Manager
As a reminder, rainy season is upon us, which means the grass and weeds will begin to grow at a much faster rate. Any growth of weeds or grass to a height of twelve (12) inches is a violation of the City's Code of Ordinances. It is also the responsibility of the owner/occupant to edge any sidewalks, curbs, street gutters and driveways. The City can ask for authorization from the Special Master to abate the property and file a lien.
Thank you,
Beverly Abrahamson, Code Compliance Manager
Sign Regulations Update
City Council approved staff-recommended updates to the sign regulations of the Land Development Code in April. The primary changes include:
A-frame/Menu board signs, are permitted only within 10 feet of business doorway and may not block walkway. This is a change from allowing A-frame signs at the back of public sidewalks.
Parked vehicles utilized as signs are not permitted, although vehicles used in every day business operations with permanently affixed signage may be parked in a parking space (vehicles are not permitted to park across multiple parking spaces).
Added definition and rules for temporary construction and development promotional signs.
Maximum allowable window signage is 20% of the window surface.
Window tinting or perforated coverings that include words, images, etc. are considered window signage and may cover only 20% of window surface.
Roof signs, window coverings not specifically manufactured for sign purposes, painted/hand-written signs, sign spinners and rope lighting (L.E.D. or rope) added to the list of prohibited signs.
Increased garage sale signs to include two off-premises sign.
Special event signage requires a permit, allowed 1 sign per every 50 ft of road frontage, however all parcels are allowed up to 3 signs.
During the COVID-19 stay at home order and reopening stages the City is allowing additional signage to promote drive through service, etc. Once the Governor ordered reopening phases have been completed, the sign regulations will be enforced. Thank you for helping us keep our commercial corridors clean and professional in appearance. Please contact the Community Development Department for the complete Land Development Code amendment or visit www.municode.com and search for South Daytona, Section 8.2. Sign Regulations.
SPECIAL EVENTS REGULATION UPDATE
The City Council approved an amendment to the special events regulations of the Land Development Code providing for additional days per year for businesses to advertise for communitywide events such as the traditional "race events" held twice a year. There are now 2 types of special event signage timeframes permitted as follows:
1.) Site specific: Grand Opening, Sale, etc. up to 30 days per year
2.) Communitywide Special Event: set by City Council annually allowing additional days for special event signage
Dates for 2020: Fourth of July, Jul 3-5 (3 days)
Tax Free Weekend, Aug 7-9 (3 days)
Coke Zero Sugar 400 Race, Aug 28-30 (3 days)
Biketoberfest, Oct 15-18 (4 days)
Black Friday/Small Business Saturday Nov 27-28 (2 days)
Super Saturday/New Year's Dec 19 & Dec 31 - Jan 1 (3 days)
Dates for 2021: Daytona 500 Race Week, Feb 9-14 (6 days)
Bike Week, Mar 5-14, 2021 (10 days)
Remaining 2021 dates to be set by City Council
South Daytona CRA Façade Improvement Matching Grant Program
Community Redevelopment Area (CRA) Business Incentive Grant Program
PROGRAM APPLICATIONS ACCEPTED BEGINNING JULY 1
All grant applications are due by July 30th. Eligible improvements include: new or repair of stucco, new windows/doors, masonry work, painting, landscaping (requires a landscape plan by a licensed Landscape Architect and an irrigation system), new or repair of signs, removal of false material or addition of material to enhance façade appearance, pressure cleaning, decorative fencing, awnings and decorative lighting of exterior.
Applications will be reviewed and will be voted on at the August 11 Community Redevelopment Agency meeting held immediately prior to the regularly scheduled City Council meeting for that same date. Evaluation criteria includes: observance of CRA design standards, quality and scope of improvements, need for improvements, impact on project site and commercial corridors and any special factors for consideration. Businesses that have received funding in the past are not eligible.
Upon project approval, each business awarded funds must enter into an incentive agreement with the City prior to any work beginning. Improvements must begin within 30 days and completed within 160 days of contract execution. Approved work will be reimbursed upon receipt of request and proof of payment submitted to the City.
To obtain an application, please contact: Patty Rippey, AICP, Redevelopment Director at 386-322-3016 or prippey@southdaytona.org.
County of Volusia - "ReLaunch Volusia"
Small Business Re-Opening Grant Program
Funded through the Federal CARES Act, Volusia County made direct grants of $3,000 for businesses of 1 to 25 employees and $5,000 for businesses with 26 to 50 employees. The application cycle opened on May 14 and continues until all funds have been expended. More information about this grant and other business resources can be found at www.southdaytona.org and www.volusia.org. Other County COVID-19 Assistance Programs include Rental and Mortgage Assistance. To find out more information contact the Community Assistance, Housing and Grants Administration Office at (386) 254-4648 Extension 12958. To find out more about other assistance including the Volusia County Human Services Summer Food Service Program, contact their office at 386-736-5956, extension 12980 or 12984.
Community Groups

Lions Honor Carene Darcy with Melvin Jones Award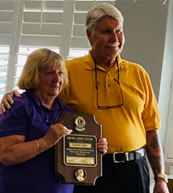 Congratulations Carene Darcy, South Daytona Lions Club member, for being awarded the prestigious Melvin Jones Award by the South Daytona Lion's Club. This is the highest honor that a Lion can be awarded, is the namesake of the Lions Club International Founder and honors a member's humanitarian work. In addition to her work with the Lion's Club and membership for the past 7 years, Carene serves as the South Daytona Citizens Alert President, is an active member of the Lutherans Women's Ministry including being in charge of their food pantry and feeding the homeless monthly and is a CERT member. Ms. Darcy is a shining example of community service, giving generously of her time to many organizations and causes. Thank you for your dedication, hard work and kind service.




Citizens Patrol Message from Captain James Crabtree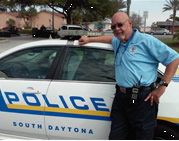 My fellow citizens, sorrowfully, we have lost a member of the Citizens Patrol. Gaetano (Guy) Gliamas, 75, passed away on Wednesday, April 1, 2020. Guy was retired from NYPD and a member of Citizens Patrol for 8 years. Guy was a valuable asset and worked many special events, traffic details, neighborhood patrols and helped with post-storm hazards. Guy served the citizens of South Daytona in an exemplary manner, was a friend to all and will be sorely missed. As with everyone, the events in the City of South Daytona have been drastically curtailed by the Covid-19 situation. The Citizens Patrol has continued patrolling neighborhoods while exercising social distancing. If you see one of our Patrol Units, give us a wave. We'll give you one back. The Citizens Patrol is accepting volunteers. If you have a clean driving record, no criminal history and would like to help your neighbors, stop by the Police Department to pick up an application. The department is located at 1672 S. Ridgewood Avenue. Come and join us.
Public Safety
Fire Department
The Fire Department has resumed all activities and is accepting reservations for CPR check offs and yearly fire inspections. We will also participate in fire prevention activities, including, regional fire and medical training scheduled to begin during the summer. In these situations, personal protection equipment (PPE) will be available to all fire employees and they will have the option of wearing masks if they feel the situation warrants it.
We continue to be cautious on all medical calls and ensure our personnel continue to use PPE when necessary. If any patient presents with certain complaints or medical history, PPE will be provided to them to reduce the chance of any transmissions. Crew contacts with these patients will be kept to a minimum whenever possible.
The Fire Department recently applied for a FEMA Assistance to Firefighters Grant in order to purchase additional PPE supplies for the future.
During the stay at home order, we did partner several times with our police department to participate in drive-by birthday and graduation parades. We appreciate our citizens understanding and cooperating with our decisions to postpone several of our programs during COVID-19.
Police Department
Despite all the negative events that are taking place across our nation and in the world, I wanted to share a positive act demonstrated by one of our very own. In the enclosed photograph, Sergeant Melody can be seen assisting a citizen with changing their tire. The personnel of the South Daytona Police Department took an oath to serve the community and we stand by that oath. This is who we are and what we represent as an agency. We will make every effort to serve and protect ALL citizens and visitors in our community. Thank you Sergeant Melody, God Bless. -Chief Cheatham-
Police Department Airborne Unit
The Police Department is in the final stages of implementing an Unmanned Aircraft System (UAS) program, the Airborne Unit. This Unit will assist law enforcement in their duties and increase the overall safety of the City. Members of the Airborne Unit have completed a rigorous flight training program and ground school that all UAS pilots must successfully complete to be considered authorized UAS operators. The following people will be part of the team: Captain Steve Pignataro – Airborne Unit Supervisor, Lt. Kevin Pedri, Sgt. Francis Melody, Officer Joe Rosa, Evidence Tech/CSI Dawn Ketelaar.
Hurricane Season
Message from Attorney General Ashley Moody Regarding Hurricane Preparedness Guide, State Attorney General Ashley Moody released the 2020 Hurricane Preparedness Guide on June 1st, the beginning of the 2020 Atlantic Hurricane Season that runs through the end of November. Moody urged Floridians to review the preparedness guide and understand that planning will be different this year as Floridians continue to take measures to mitigate the spread of COVID-19. "As Floridians, we know that hurricanes are an unfortunate reality of living in our beautiful state. As we continue to deal with the challenges presented by COVID-19, it is equally important that we not drop the ball on our preparedness for hurricane season. The safety of you, your family, pets and property, depends on you preparing now," Moody said on Monday. Source: Florida Daily. Visit: www.myfloridalegal.com to view the guide or www.fema.gov to access multiple hurricane guides and resources.
Active Bird Season
This spring has turned out to be a very active season for many types of birds. We have had several residents reach out to us with photos of birds in their neighborhoods here in South Daytona. Billy Watkins, resident of Harborside Village, took this photo of an owl in his front yard. Clyde and Arline Rodgers reported a nest of bald eagles in their yard this year. The two eaglets appear to be ready to fly any day now. The bald eagle and eaglets are pictured below. Also below, a photo of the mother eagle fighting off an osprey. Thank you for these amazing photos.