City Newsletter October - December 2019
South Daytona Newsletter October - December 2019
Mayor's Column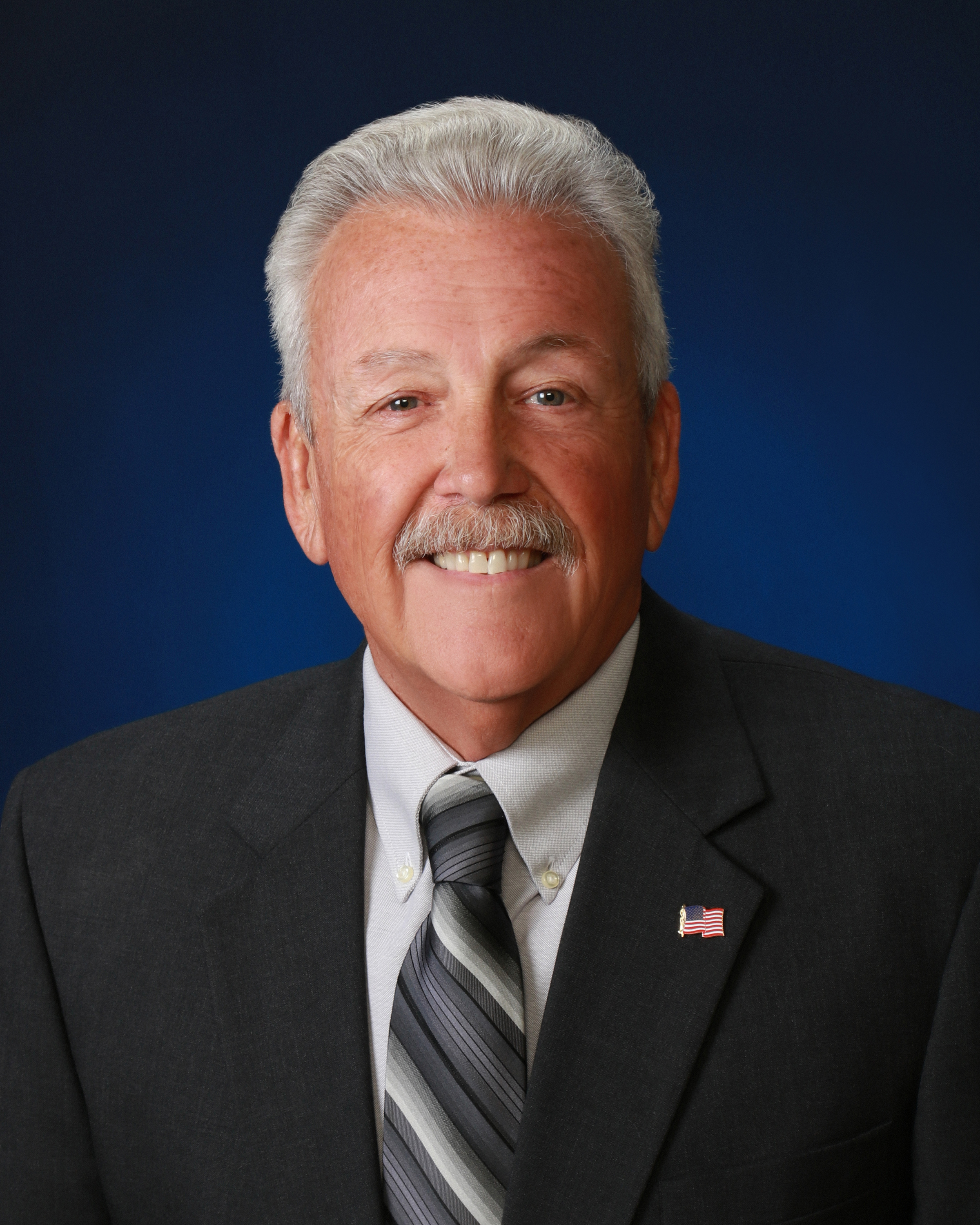 This newsletter marks the end of the last quarter of 2019. It's hard to believe that another year is almost over. I believe we are all relieved that we were spared the wrath of Hurricane Dorian. By now we have all heard the stories of destruction and death that the Bahamas have suffered. At times like this we all want to help in some way, please be sure the organization you are giving to is using your funds to assist those in need.
Even though the storm spared our area, the City was prepared in anticipation of the storm. All City personnel were on stand-by waiting to assist residents in the event the storm made landfall. A big thank you to all of the volunteers (CERT and others) who helped at the City's sandbag locations at the Piggotte Community Center (see page 3 for more information). Please don't forget hurricane season runs through the end November, so stay vigilant.
October also marks the beginning of the City's new fiscal year. The City Council tasked our new City Manager, James L. Gillis, Jr., with carefully reviewing the City's financial position. Part of that review included a rate study of our utility system. The study was conducted by Wildan Financial Services, who recommended a rate increase to keep the utility fund solvent and set aside funds for improvements. Those increased rates began in September.
In addition, the budget for Fiscal Year 2019-2020 was formally adopted in September. Each item in the budget was reviewed and all excesses were trimmed to ensure vital services to the public were not adversely affected. The budget was balanced at the same millage rate as the previous year (7.75 mills) and includes a small amount of capital improvement, most notably the replacement of pumps and valves at Lift Station No. 5 on Violet Street.
Last month the City installed a brick in honor of U.S. Navy Lieutenant Caleb King, who was killed last year in Key West. Lt. King was a star football player at Warner Christian Academy and the U.S. Naval Academy. The brick was installed at Riverfront Veterans Memorial Park. For more information about placing a brick for your loved one, contact City Hall.
Also, it was great to see some of you at the Tortugas Baseball game. This is the second year for this event and both times they have won! The City has many fun special events planned for October through December, such as, Movie in the Park, Mayors Golf Tournament, Enchanted Forest, Grillers Gone Wild BBQ Competition, the Tree Lighting Ceremony and Holiday Lighting Awards. See pages 8, 9 and 12 for additional information on those upcoming fall special events.
I want to send out a special thank you to Jeep Beach, Inc. for a donation of $2,500 towards our Community Trust account that assists low-income residents with code violations that are detrimental to their health and safety.
Please know that your City Council is working hard to keep our community moving forward. We encourage you to come to council meetings and help us chart a new path for our City. This has been a year of changes, and development in our City, and we look forward to more of the same in 2020. I hope to see you at the many special events and around town during the holidays.

Council Actions
In September, the City Council set the millage rate at 7.75 which is the same as the previous year. The City Budget was also approved after an extensive review by the City Council, new City Manager and staff.
At the September 24 City Council meeting, Jeep Beach Inc. Board of Directors attended to present a check donating $2,000 to the city of South Daytona Community Trust. Those funds will be utilized to correct health and safety related code violations for low-income residents who have no other means of assistance.
Other items approved in September included: Halifax Humane Society contract, pollution contract for gas tanks at the Public Works facility, Human Resources contracts for workers compensation, general liability coverage and accident coverage. Also, leases for Police Department motorcycles were approved. Other items included clarification of building coverage definitions and repeal of the Green Building Program in the Land Development Code.
City Council meetings will be held once monthly in the last quarter of the year and are scheduled for October 22, November 12 and December 10.
2019 Hurricane Season
Hurricane Dorian was a powerful Category 5 storm when it crossed over the Bahamas destroying homes and lives in its wake. Everyone agrees, we dodged a bullet again. However, do not let your guard down during future storms. Hurricane season runs from June 1 through November 30, with the peak of the season being September. It is always best to be prepared for the worst. Each storm is practice for perfecting your disaster preparedness plan.
We are lucky to have such dedicated volunteers to help our citizens with sandbags and other preparations. South Daytona CERT, Citizens Alert, Citizens Patrol, City Council members and employees were on hand to assist. Many city staff members worked through the storm and all were on call and ready for activation for emergency response and post-storm damage assessment.
Fire Department Awarded $495,000 Grant for Fire Truck
The South Daytona Fire Department proudly announces the award of an Assistance to Firefighters Grant from the Department of Homeland Security FEMA. This grant will be used to replace our 1988 Pierce Lance Engine/Pumper. The total award is for $495,000. FEMA's share of the grant is $471,428.57 and the city's matching portion is $23,571.43
The Lance was delivered to our department in March of 1989 at a cost of $150,000. At the time, the pumper had quite a few modern options such as air conditioning, fully enclosed cab with seating for 6 firefighters, upgraded lights /sirens, a 500 gallon water tank and a single stage 1250 gpm pump. However, by today's modern standards and safety features, this truck is obsolete and past it's life expectancy.
Our new engine/pumper will be carefully selected by an apparatus selection committee made up of department members. it will be outfitted with modern lights, reflective striping, enclosed cab with modern seatbelts and all the current safety features to protect our firefighters. The water tank will hold 1,000 gallons of water and the pump will be able to flow over 1,500 gallons a minute.
Some of the specifics will not be decided until the committee meets and pours over all the available manufactures and options available. One thing is for sure – it will be red!
Childhood Cancer Awareness Month Recognized by City Council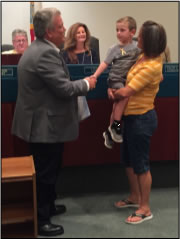 Childhood Cancer Awareness Month (CCAM) is recognized every September by childhood cancer organizations around the world. The goal of this recognition is to increase awareness, support the research and treatment of children affected with cancer and to boost the hope of children with cancer, the survivors and their families. Childhood cancer is the leading cause of death by disease in American children.
In support of these goals, Mayor Bill Hall presented a proclamation to Ms. Connie Fields for Childhood Cancer Awareness Month at the September 9 City Council meeting. Her son, Benjamin, is a survivor of childhood cancer and was also present at the meeting to shake the Mayor's hand. Family and friends who attended the meeting were wearing gold ribbons in honor of Childhood Cancer Awareness month. Ms. Fields handed out gold ribbons to the audience as well. The color gold symbolizes how precious children are and the resiliency of childhood cancer heroes. Ms. Fields stated upon receiving the proclamation, "Be Bold, Go Gold".
The City Council and City Manager took this to heart and honored the "Go Gold" motto with large gold ribbons that were placed at City Hall and the Piggotte Community Center. Special thanks for materials and design to Barrows Aluminum of Port Orange. Ms. Connie Fields and her son Josh are pictured with one of the ribbons on display.
Lt. Caleb King Honor Brick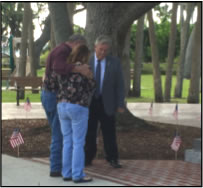 A memorial brick was placed at Riverfront Veterans Memorial Park in South Daytona to honor Lt. Caleb King on Wednesday, August 14, 2019. His parents, Darrell and Robbin King attended, as well as friends and family. South Daytona Mayor, Bill Hall and Warner Christian Academy, Secondary Principal, both spoke at the memorial in remembrance of Caleb King. VFW Post 3282 members performed a presentation of colors.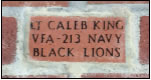 King was killed on March 14, 2018 when his U.S. Navy F/A-18F Super Hornet jet crashed off the coast in Key West, Florida. Caleb King was born on September 2, 1988 in Port Orange, Florida. King was a standout football player at Warner Christian Academy and later at the U.S. Naval academy, where he was a three-year starter as linebacker before graduating in 2012. Lt. King was survived by his wife, Victoria and daughter, Rain.
SJRWMD Cost Share Grant Windle Lane Stormwater Pond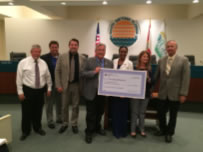 Earlier this year, the City was awarded a Cost Share grant from the St. Johns River Water Management District (SJRWMD) in the amount of $174,900 for the expansion of the stormwater pond at Windle Lane. The expansion of the pond will reduce street flooding during storm events and reduce the pollutant runoff into our local canals and the Halifax River. At the July 23 City Council meeting, the City was presented with a ceremonial check of $174,900, by Ms. Abby Johnson, SJRWMD. The City will break ground on the project later this year. Thank you to our partners at SJRWMD.



City Welcomes New Directors to Community Development & Public Works

Brian Peek, Public Works Director, began working with the City on May 27. He worked previously for Thompson Pumps in Port Orange. Brian worked for them for five (5) years as a Project Engineer. The City is fortunate to have his experience and depth of knowledge.







Laureen Kornel, Community Development Director, joined the City as the new Director on September 23. She most recently worked as Senior Planner for the City of Ormond Beach for the past 13 years. Prior to that she worked for Volusia County as a Planner II and Flagler County as an Environmental Planner III. Laureen is a Certified Planner through the American Institute of Certified Planners (AICP), as well as a Certified Arborist with the International Society of Arboriculture. She comes to us with extensive planning experience in current and long-range planning.



ADA Advisory Committe
With the new fiscal year will come South Daytona's Americans with Disabilities Act (ADA) Transition Plan. The plan includes multiple phases for identifying and rectifying barriers to accessibility in and around City owned infrastructure. An ADA Advisory Committee will be formed of City staff, as well as South Daytona residents.
If being part of this committee is something that interests you, please contact the Public Works Department at 386-322-3080.
Sparks Concrete/Asphalt Project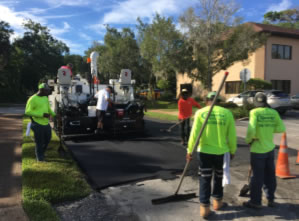 Billy Sparks of Sparks Concrete and his crew graciously repaved Deland Avenue free of charge on August 20th. This small stretch of road allowed Sparks to test and tune his machine and team as they expand their business model to include asphalt. The City thanks Sparks Concrete for a job well done.







Septic to Sewer Conversion Update

As of September 26, seventy-eight (78) septic to sewer conversions have been completed. The City has received additional grant funds from the Department of Environmental Protection (DEP) in the amount of $400,000. The contract has been executed and funds may be expended beginning January 1, 2020.
The City estimates an additional 65 septic tanks can be converted with the DEP grant funds. The additional funding will go a long way in meeting the goal of eliminating all septic tank runoff into our aquifer and the Halifax River.
Business Tax Receipt Renewals Notice
Business tax receipts (formerly known as Occupational Licenses) were required to be paid by September 30, 2019. Penalties are now accruing; a 10% penalty fee is added in October, a 15% penalty will be added in November, a 20% penalty will be added in December and a 25% penalty will be added in January.
The Business Tax Receipt must be renewed before January 31, 2020, or the business owner will be fined an additional $250. Renew by four convenient methods: on-line, by mail, by phone, or in person.
Please be aware failure to receive a courtesy renewal notice does not relieve the business owner of their responsibility to renew on time. Before submitting payment, please be sure to review the courtesy renewal notice in its entirety with special attention to the right side of the form next to date with "Total Amount Due".
Our office is located at City Hall, Community Development Department, 1672 S. Ridgewood Avenue, South Daytona, Florida. Our office hours are 8:00 AM to 4:30 PM, Monday through Friday. Please arrive no later than 4 p.m. and we accept payments by cash, check, MasterCard, Visa, American Express or debit card. If you have sold, moved, or closed your business, please notify our office at 322-3020 or email comdev@southdaytona.org.
New Businesses
Advanced Furniture Systems, 1801 S. Nova Road, Unit 107, Office Furniture Retail
Bellissima Spa, LLC, 2911 S. Ridgewood Avenue (moved/expanded), Cosmetology Salon
Blue Sky Design Studios LLC, 933 Beville Road, Wholesale Retail, Sewing and Sales
La Fuente Tacos & Tequila, 2452 S. Nova Road, Restaurant
World Champion Hoop Dancer & South Daytona Resident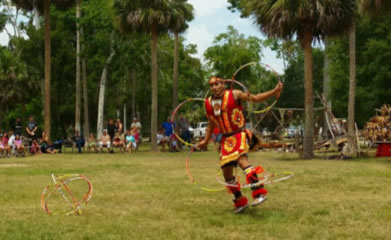 If you have been to our local Native American Festival, then you have seen Cody Boettner, World Champion Hoop Dancer, in action. Cody is a resident of South Daytona and currently holds this distinguished title. He competed and won top honors in February 2019 at the Heard Museum in Phoenix, Arizona.
Each year the museum hosts the National Hoop Dance event. The Championship event has been held for the past 28 years in Arizona. Cody began competing in 2016. The competition consists of three elimination rounds. Boettner competed against over 20 competitors in the Adult Age Division in 2019.
Cody is the son of South Daytona residents Jim ("Sawgrass") & Jane Boettner. His Native American lineage is the Muscogee/Creek Tribe. We are proud of Cody and honored to have him as a resident and as part of our Native American Festival each year.




5K Race Recap
The 21st Annual South Daytona 5K Run was a great success in September with all ages running at the event! The annual race begins at James Street Park and courses through several local neighborhoods.
Awards were presented to Overall Male and Female, Masters, Grand Masters Male and Female and 1st through 3rd place in each age category. Each year the race benefits the Atlantic High School S.T.A.R. (Students Together for Autism Recognition) Program. We had many participants, wonderful volunteers, Florida Race Day tracking the running times and Mayor, Bill Hall and Councilman, Doug Quartier were on hand to support the runners and present awards. Also, our new City Manager, James L. Gillis, Jr., was on hand to cheer the runners to the finish line. The free 1-mile fun run for kids was held immediately following the 5k race and 1-mile fun run.
Thank you to the South Daytona Police Department for escorting the runners and to City staff who assisted at the event. A complete album of photographs will be posted soon on the Parks and Recreation Facebook page. Congratulations Runners!
12th Annual Kailynne Quartier Memorial Ride
RESCHEDULED DUE TO HURRICANE DORIAN FOR JANUARY 18, 2020
Hosted by the South Daytona Police Department, the Lions Club and South Daytona Citizens Alert. Join us in remembrance of Kailynne Quartier, daughter of retired Captain and City Councilman Doug Quartier, who lost her battle with brain cancer at 13 years old.
All vehicles are welcome. Ride begins at the SD Police Department with stops at NSB Harley, DeLand PD, Destination Daytona and ends at the Piggotte Center with lunch served. A $20 donation is appreciated. Participants can register at 8 a.m. that morning. Proceeds from the event will benefit the Lions effort to prevent childhood blindness. Call 386-322-3030 for details.