City Newsletter January - March 2020
Mayor's Column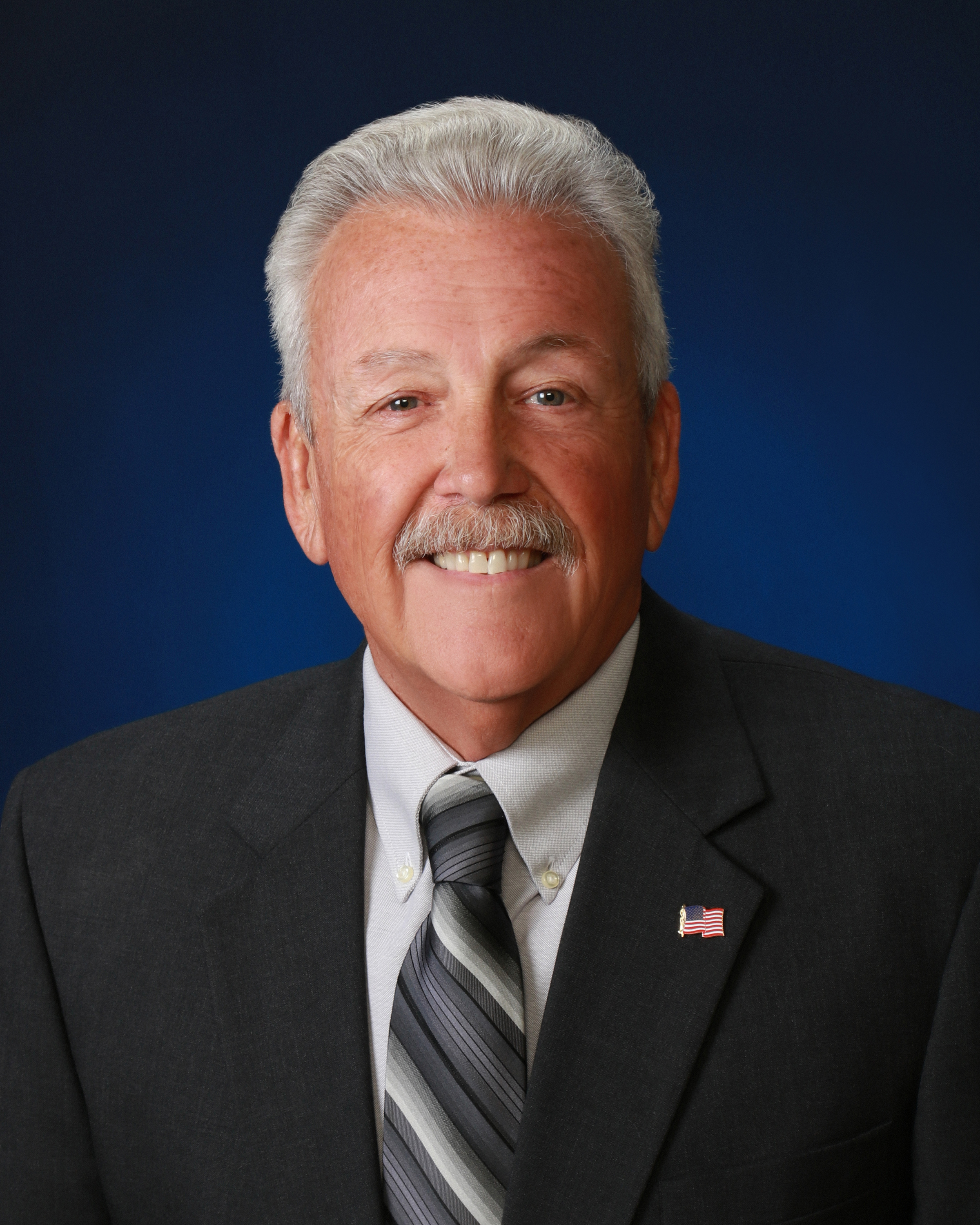 Happy New Year!!! 2020, Wow!! As we begin this new year, there are several exciting new projects happening in South Daytona. By this time, I hope you have visited the City's newly designed, ADA compliant website. The new site is interactive and is focused on what is going on in our City. There are easy to use "How To" buttons for paying utility bills, accessing permits and finding upcoming events. We are also looking for your thoughts and comments on how we can make it better.
The south end of our City is bursting with new development, which I am sure your have noticed, along our S. Ridgewood/U.S.1 corridor. This is the City's oldest commercial corridor and is also a redevelopment district. The construction of The Enclave at 3230, a 256-unit apartment complex on the west side of S. Ridgewood Avenue is well underway. Also under construction, is the 16-bed, One Caring Family, Assisted Living Facility, 3130 Opportunity Court, just west of 3100 S. Ridgewood Avenue. This spring we expect to see development of townhomes and condominiums on the east side of U.S.1 at the south end of the City. Hopefully, this trend will continue to spark more retail and restaurants in its wake.
In other news, the Fire Department will be utilizing Federal Emergency Management (FEMA) grant funds of $471,428.57 towards the purchase a new fire truck in 2020. I would like to extend congratulations to the members of the Fire Department for this award as it is a difficult grant to obtain. In fact, it may be the only one awarded in the State of Florida. The Fire Department is designing a new logo that will include a "Dragon" to correlate with the Dragon mascot for South Daytona Elementary School. This is definitely a "win-win" opportunity for the City and residents alike. We will share the Fire Department dragon emblem that will be adhered to the new fire truck in our next newsletter.
The year 2020, to me, represents clear vision for the future. Please know that your City Council is working hard to keep our community moving forward with a vision for a thriving community. We encourage you to attend council meetings and help us chart a new path for our City. This year will be full of positive growth and forward-looking development in our City.
Council Actions
In October, the City Council approved continuing the recycling contract and approval of a FEMA grant award for replacement of a fire engine. The City Manager updated the Council on the 2003 S. Palmetto Avenue time schedule that establishes a deadline of March 2020 to make repairs.
In November, City Council consent agenda items that were approved: contract renewal with FDOT for mowing of U.S.1 and SR 5A and authorized the City Manager to sign a CDBG contract for drainage system improvements and stormwater pump on Jones Street.
The regular agenda items included, approval to release a lien on 3417 Country Manor Drive related to a tree removal; First reading for Ordinance 19-24 for routine fire inspections of non-homesteaded structures; First reading on Ordinance 19-25 creating guidelines for fire pits used within City limits; Consideration of approving the purchase of a Pierce Enforcer Fire Truck utilizing grant funds; Review of Parks and Recreation Department financial performance; Resolution 19-34 consideration of waiving formal bidding procedures in lieu of utilizing a sole source and approving contract with Sunshine State Officials Association for flag football referee and scorekeeper services for fall 2019/2020 season first and only reading.
At the December, Community Redevelopment Agency (CRAG) meeting, the Board approved the incentive agreement for 3230 S. Ridgewood Avenue apartment complex for a cost share for decorative sidewalk and streetlights in the CRA.
The City Council was presented with an update on FEMA hurricane reimbursements, Police Dept. accreditation, Fire Truck acquisition, Economic Development update and current City park conditions. On the consent agenda, the second reading and approval of Ordinance 19-24 for routine fire inspections of non-homesteaded structures; Second reading and approval of Ordinance 19-25 creating guidelines for fire pits used within City limits; On the regular agenda; Consideration of approval of Resolution 19-35, financial contribution to First Step Shelter, Inc. for FY 2019/2020 operating costs, approval of CRA incentive agreement also approved at the CRAG meeting immediately prior to Council meeting.
City Council meetings will be held once monthly in the first quarter of the year and are scheduled for January 14, February 11 and March 10.
ADA Advisory Committee
In 2020, work will continue on South Daytona's Americans with Disabilities Act (ADA) Transition Plan. The plan includes multiple phases for identifying and rectifying barriers to accessibility in and around City owned infrastructure. An ADA Advisory Committee will be formed of City staff, as well as South Daytona residents. If being part of this committee is something that interests you, please contact the Public Works Department at 386-322-3080.
Notice From Your Utility Billing Department
Save this phone number to your contact list: 844-309-7105
The Utility Billing Department sends monthly electronic due date reminders and shut off reminders from this phone number. Please save this number in your phone as City of South Daytona. Please provide the City with your most recent contact information to ensure these notices are successfully transmitted.
Congratulations to Firefighter, Police Officer and General employee of the year
Each year, employees and supervisors nominate one of their peers from the Fire Department, Police Department and a General Employee of the year. These individuals are City employees that go above and beyond the call of duty. They exemplify a positive attitude, self-motivation, integrity, dependability and a strong work ethic. Employees of the year were recognized at the December 5, Citizens Alert banquet at the Piggotte Community Center. They were each presented with a check for $150.00 donated by Citizens Alert.
POLICE OFFICER OF THE YEAR

Investigator Gabrielle "Gabby" Lank was born in Seaford, Delaware, and is a graduate of Seabreeze High School. She completed the police academy at Daytona State College and became a Police Officer with the City of South Daytona in July of 2015. Investigator Lank has attended multiple advanced law enforcement training courses to include Speed Measurement Operations, Field Training Officer, Investigative Interviews and Interrogations, Investigations of Death and Major Injuries, and Sex Crimes Against Juveniles and the Elderly. In August 2019, Gabby was selected through an evaluation process as a Department investigator/detective. She has quickly embraced her new role and those challenges she has been tasked to fulfill. Her dependability has not gone without notice. Investigator Lank's caring and empathetic approach to the community has cultivated relationships that have been instrumental to her individual success as well as the collective success of the Police Department. Investigator Lank can often be found volunteering for additional work projects and community events outside her normal duties. She is astute and continuously challenges herself and her peers to enhance the image of public trust through positive interaction with all citizens.
FIREFIGHTER OF THE YEAR

South Daytona's Firefighter of the year for 2019 is Cody Kagle. Cody was hired in October of 2017 and since day one, he has been an asset to our department. In February of 2018, he became a state certified driver/engineer. He then became a state certified rope technician in September of 2019. This was crucial in helping South Daytona form our rope team as part of the southeast region's special operations team. In January, Cody is scheduled to start the 18 month paramedic program at Daytona state College. Our department and City is fortunate to have such a dedicated and driven employee as Cody.
GENERAL EMPLOYEE OF THE YEAR

Luke Strydom began his career with South Daytona on May 26, 2014; having no experience with lift stations, but a mechanical aptitude and desire to work, he quickly learned the basic functions and operations of a wastewater system. Shortly after he completed a Florida Board of Professional Engineers approved course covering permanent lift station backup systems, principles of pumping, calculating total dynamic head, and failure analysis. In pursuing more training, Luke also completed Smith & Loveless wastewater transfer training, holds a Class C Wastewater Collections certification along with a FLDEP Class 3 Distribution Systems Operator certification. We are thankful for Luke's service and dedication to the City's Utilities.

2019 EMPLOYEE AWARDS AND CHRISTMAS LUNCHEON
Also, recognized by Mayor Bill Hall and Les Gillis, City Manager at the Annual City Employee Luncheon on December 13, were the following tenured employees: 5-year (Tina Farley, Parks Staff Assistant, Luke Strydom, Lift Station Mechanic, Gary Hiatt, Chief Building Official), 10-year (Francis Melody, Police Sergeant, Dustin Mechtel, Police Investigator), 15-year (Mark Smith, Fleet Maintenance Supervisor, Bryan Craig, Acting Police Lieutenant), 30-year (Paul Nelson, Fire Commander), 35-year (John Malin, Housing Rehab. Inspector) and 40-year (Mayor and former Police Chief Bill Hall). Other long tenured employees recognized for their years of service that will be retiring in 2020, were Joyce Pazman (18 years at time of retirement) and Pat Clark (42 years at time of retirement).
FEMA Grant-Funded Fire Truck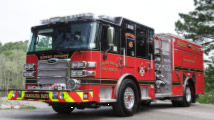 Pierce Enforcer 2019 Model
During 2019, the City of South Daytona Fire Department was awarded a FEMA grant of $471,428.57 for the purchase of a new fire engine. The truck pictured to the left is the 2019 Pierce Enforcer, the model that will be purchased with those grant funds. The new truck will replace the 1988 Pierce Lance Engine/Pumper.
Compared to the 1988 Pierce Lance, the Enforcer has more safety features inside the cab. Alarms sound if seat belts are not engaged, roomier cab for the Firefighters to get bunked out in gear, more compartment space both inside and outside of the cab. The front suspension has improved dramatically which helps with handling and a more comfortable ride. The manufacturing time is estimated at seven to nine months.
Sewer Lining Project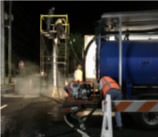 The City recently identified a sewer line in need of repair on U.S.1. The process used to repair the failing sewer lines is very interesting. In order to line the existing pipe, a sleeve is impregnated with epoxy resin as seen in the middle of the pictured scaffolding. The scaffolding height kept pressure on the inside of the sleeve. The weight of the water pushed on the sleeve, rolling it through (similar to turning a sock inside out), and conforming it to the inner shape of the existing ductile iron pipe. Once pushed through to the other side of the pipe, the sleeve was heated with water from a boiler to activate the resin, then cooled with chilled water to set. The process hardened the sleeve into an epoxy pipe that layers the inside of the ductile iron.
The outcome of this lining is a reduction of approximately 150,000 gallons of groundwater per day being drawn into the sewer through the aging pipe. This results in significant savings in equipment maintenance and processing costs. The life expectancy of the new sleeve is greater than 10 years.
Business Portal
Reminder Notice: Renew your Business Receipt - Business tax receipts were due September 30
Business tax receipts (formerly known as Occupational Licenses) were required to be paid by September 30, 2019. Penalties are now accruing; a 10% penalty fee is added in October, a 15% penalty will be added in November, a 20% penalty will be added in December and a 25% penalty will be added in January.
The Business Tax Receipt must be renewed before January 31, 2020, or the business owner will be fined an additional $250. Renew by four convenient methods: on-line at www.southdaytona.org, by mail, by phone, or in person.
Our office is located at City Hall, Community Development Department, 1672 S. Ridgewood Avenue, South Daytona, Florida. Our office hours are 8:00 AM to 4:30 PM, Monday through Friday. If you have sold, moved, or closed your business, please notify our office at 322-3020 or email comdev@southdaytona.org.
New Businesses
Bellissima Spa, LLC., 2911 S. Ridgewood Avenue, Cosmetology salon
TG Southern Scoops, 2025 S. Ridgewood Avenue, Ice cream café
Undersea World Aquatics, LLC., 2550 S. Nova Road, #2, Tropical fish and aquariums
Your Rod & Reel, Inc., 1980 S. Ridgewood Avenue, Live bait, tackle, fishing equipment
Commercial Permits: New Construction Projects
3130 Opportunity Court, Saboungi Construction, Inc., Assisted Living Facility, New Construction, Permit Fee: $53,819.21, Permit Value: $2,186,000
3230 S. Ridgewood Avenue, LandSouth Construction, LLC., Apartment Complex, New Construction, Permit Fee: $104,619, Permit Value: $35,365,906.33
Economic Development - New Construction Project Updates
3130 Opportunity Court
One Caring Family Assisted Living Facility (ALF)
Construction began in October 2019 and as of December 15, is approximately 5% completed. The building pad passed inspection in November and the walls were being constructed in December.
The 16-bed facility will employ a total of eight employees, including, three nurse administrators, two certified nurse assistants, one housekeeper, one cook and one maintenance/groundskeeper. The project is providing employment for many construction trade workers as well. Construction is estimated to be completed in the summer of 2020. The City has collected $53,819.21 in permit fees and the project value is estimated at $2,186,000.
3230 S. Ridgewood Avenue
Enclave at 3230
Apartment Complex
Construction began in November 2019 and as of December 15 is 1% completed. Site work includes undergrounding of pipes and preparation for pouring of the building pad for the clubhouse and building one.
The 256-unit complex will include four, 4-story units with a Clubhouse, pool with outdoor lanai with covered seating areas, firepits, 24-hour fitness studio, business center including work rooms and office facilities, pet park, play areas and garages will be available. The units will have gourmet kitchens with granite countertops, stainless steel appliances and table-sized islands. There will be wood planked inspired flooring in the main living area.
There will be a total of four employees, including two office staff and two maintenance staff. The economic impact of this development will be positive for local restaurants and businesses. Additional commercial development is expected as a result of this project. Construction is estimated to be completed within 20 months with first occupancy within 12 months. The City has collected $104,619.39 in permit fees to date and the project value is estimated at $35,365,906.33
South Daytona Citizens Alert Newsletter
President's Message - Carene Darcy

On behalf of your entire Board of Directors, I want to wish you all a very Happy New Year. Your Board has agreed to another term for 2020 and we are so happy to be privileged to offer our services to the South Daytona community.
Our hot dog wagon is in full force hosting Flag Football at Reed Canal Park until February. We can certainly use volunteers if you have a couple of hours to spare. We sell a lot of hot dogs and hot chocolate.
We have so many great events this year and interesting speakers at all our meetings. I hope you will plan to attend our meetings each month. We meet on the first Thursday of every month except July. Most meetings are at the South Daytona Police Station training room and begin at 6pm.
Our General Meeting speakers for January through April 2020 will be from the City of South Daytona and the Sheriff's Office:
January2: Les Gillis, City Manager
February 6: Patty Rippey, Redevelopment Dir.
March 5: Brian Peek, Public Works/Park Dir.
April 2: Sheriff's Marine Unit
Please visit our South Daytona Citizens Alert Facebook page. You don't have to have a Facebook account to view the page. It is always quite interesting and fun to look at.
South Daytona Citizens Alert dues are now due for 2020. We have kept the dues to $5.00 per adult. Your dues help our organization provide donations to local charities, schools and first responders. Please fill out your application as we need your support.
Your Citizen Alert Board of Directors are truly excited to be working with you again and we look forward to a great year and hoping to see more volunteers for our events and more citizens enjoying our general meetings.
Citizens Patrol Message
From Captain James Crabtree
The primary purpose of the Citizens Patrol is to be the "eyes and ears" of the Police Department and assist with emergency situations. Last year was a very good year for the Citizens Patrol. Our Members compiled a total of 6,325 Miles patrolling the streets of South Daytona and over 1,043 hours in volunteer service to the citizens and Police Department. We are looking forward to 2020 and doing even more.
The Citizens Patrol is always looking for new members to compliment our group. Our members are primarily made up of retirees who are looking for a way to help out their neighbors. If you wish to volunteer, have a valid Florida Driver's License, a good driving record and no criminal history, we welcome you to come and be part of our service. You can go by the South Daytona Police Department Monday through Friday, 8:30 AM to 4:30 PM and pick up an application. We look forward to seeing you.
Fire Department News Southeast Regional Fire Department (SERF) Firefighter Survival Training

The SERF Training group consists of six (6) fire departments; Daytona Beach Shores, Edgewater, New Smyrna Beach, Ponce Inlet, Port Orange and South Daytona. This regional group provides training each month for approximately 300 firefighters. In November of 2019, the training consisted of rope rescue and firefighter survival. The training was instructed by The SERF Technical Rescue Team. Firefighter survival training included ladder bailouts and window bailouts.

Training also covered use of ladder trucks for tech rescue application as well as Rope Rescue Mechanic Advantage. This regional group and the specialized training they provide allows firefighters to safely assist the community in times of danger and crisis.



Special Events
12th Annual Kailynne Quartier Memorial Ride, Saturday, January 18, 2020 8am at South Daytona Police Department
This event was rescheduled due to Hurricane Dorian. It is hosted by the South Daytona Police Department, the Lions Club and South Daytona Citizens Alert. Join us in remembrance of Kailynne Quartier, daughter of retired Captain and City Councilman Doug Quartier, who lost her battle with brain cancer at 13 years old. All vehicles are welcome. The ride begins at the South Daytona Police Department with stops at NSB Harley, DeLand Police Department, Destination Daytona and ends at the South Daytona Piggotte Community Center with lunch served. A $20 donation is appreciated. Participants can register at 8 a.m. that morning. Proceeds from the event will benefit the Lions effort to prevent childhood blindness. Call 386-322-3030 for details.
NOTICE: The Parks and Recreation Program is undergoing restructuring.
Please contact the Parks and Recreation Department, located in the Piggotte Community Center, at 504 Big Tree Road, South Daytona, Office: (386) 322-3070, for information about 2020 sports programs and more information about upcoming children and adult programs. You may also, visit the City of South Daytona Parks and Recreation Facebook Page and the City of South Daytona website at: www.southdaytona.org for updates on events and programs.